The first round of the Global Vote on the 2017 French Presidential Election produced a clear win for Emmanuel Macron, who took 40% of the total vote from 118 countries worldwide.
Global Voters in France and overseas French territories, who represented 9% of the Global Vote, followed much the same pattern as voters in the other 117 countries, except that there were more votes for Fillon (nearly 14%) and significantly fewer for Le Pen (2%).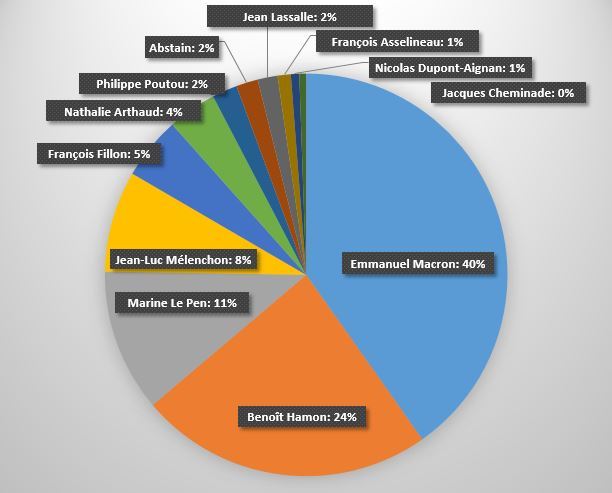 While Marine Le Pen took a close second place in the first round of the official election in France, the runner-up in the Global Vote was Benoît Hamon. Le Pen took third place in the Global Vote.
There will now be a run-off vote between the leading two candidates on 7th May to elect the next President of the French Republic, and this second poll will be replicated here on the Global Vote.
As it would be inappropriate to eliminate either Le Pen (because she is a candidate for the official run-off) or Hamon (because Global Voters gave him more than double the votes of Le Pen), the Global Vote run-off will include all three candidates.
You can now vote for one of these three candidates until the Global Vote closes on May 7th. Please select your chosen candidate from the list below.
With thanks to Maud-Lily Lardenois-Macocco for her invaluable help in preparing the candidate profiles.